Harold Fisk's map of Mississippi River flooding over time, made in 1944
Here's a collection of articles I found on the net arranged by topics from the more general to the more technical.
Articles in French are listed afterwards.
HUMOUR

- Big Brother is watching you
http://gidivigo.com/maps/
- What your favorite map projection says about you
http://imgs.xkcd.com/comics/map_projections.png
RISE OF DATA SCIENCE
- The Economist
on the explosion of Data
http://www.economist.com/node/15579717
http://www.economist.com/node/15557443?story_id=15557443
- Barack Obama's looking for Data scientists with
preferred skill in R language
http://rdatamining.wordpress.com/2011/09/27/obama-recruiting-analysts-and-r-is-one-preferred-skill/
- Job trends
for different keywords: "big data", "statistician", "data scientist", "R statistician", and R "data scientist". Maybe R is worth learning if you're looking for a job.
http://blog.revolutionanalytics.com/2011/07/growth-in-data-related-jobs.html
- About building
a data science team
http://radar.oreilly.com/2011/09/building-data-science-teams.html
http://flowingdata.com/2009/06/04/rise-of-the-data-scientist/
http://www.drewconway.com/zia/?p=2378
INFORMATION GRAPHICS
- When mapping meets
art
http://casualdata.com/senseofpatterns/
http://www.fastcodesign.com/1665126/gorgeous-vintage-floodplain-maps-that-look-like-modern-art
- More
traditionnal maps of volcanoes' geology
, but very pretty
http://www.wired.com/wiredscience/2011/11/geological-maps-of-volcanoes/
- IKEA
heat map
http://infosthetics.com/archives/2011/09/a_visual_analysis_of_how_people_shop_in_ikea.html
- A
realistic
Manhattan map model
http://www.visualnews.com/2011/09/24/the-heaviest-map-ever-mini-manhattan-made-of-marble/
I think this creation can be connected to this project that makes people whose heritage is threatened participate around 3D model
[fr]
http://www.slideshare.net/geoseminaire2011/notre-fort-notre-dignit-maquette-3d-et-revendication-territoriale?from=ss_embed
- Okay, my blog is mostly spatial but one must admit
representing data on a map is not always the best solution
http://www.ericson.net/content/2011/10/when-maps-shouldnt-be-maps/
- About
animated
geospatial data
http://radar.oreilly.com/2011/10/animated-geo-data.html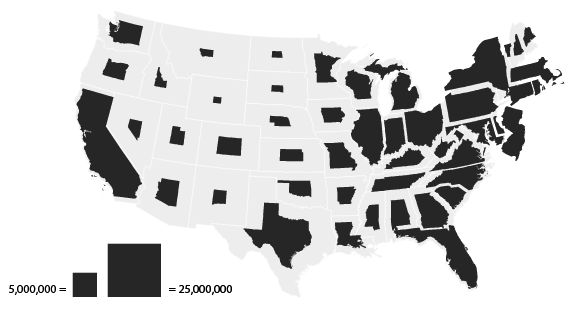 - Unusual cartograms
. I prefer these ones because geometries are not altered. I think I'll write an article on achieving a similar result in R.
http://indiemaps.com/blog/2009/10/classed-cartograms/
http://indiemaps.com/blog/2008/12/noncontiguous-area-cartograms/
- An interesting
statistical representation
. I think I'll give it a try with R using spdep package. I'll publish the solution in a future post
http://www.fastcodesign.com/1665327/infographic-if-7-billion-people-lived-in-one-city-how-big-would-it-be
- Metadata is almost always literal. Could we use a new term
MetaMap
, which would be metadata of a map synthetized as a map (Ouch, I have an headache...)
http://oegeo.wordpress.com/2011/11/13/openstreetmap-data-temperature-how-it-was-done-and-do-it-yourself/
- Crime rates as topographic maps
: why not?
http://weburbanist.com/2010/09/17/criminal-contours-crime-rates-as-topographic-maps/
- Jack Kerouac Litteracy
as wonderful information graphics
http://infosthetics.com/archives/2008/04/literary_organisms_jack_kerouac.html
- A website to understand maths
by Apple designer Bret Victor. After all, designing information or whatever is all about making things simpler and accessible, isn't it?
http://worrydream.com/KillMath/
AVAILABLE DATA
- Tutorials and guidelines on
how to participate to Open Street Map
with this website
http://www.learnosm.org/
- Open
Public Transportation
Maps:
http://wiki.openstreetmap.org/wiki/Openptmap
- R
and OpenStreetMap
http://www.r-bloggers.com/visualizing-gis-data-with-r-and-open-street-map/
- I'll soon publish a post comparing the newly available Digital Elevation Model
GDEM ASTER
and the Digital Terrain Model from the French National Geographic Institute using R
http://slashgeo.org/2011/10/26/ASTER-Global-DEM-GDEM-Version-2-Released-Significant-Updates
ABOUT MAKING MAPS
- Several techniques on
making maps using free tools
http://flowingdata.com/2009/11/12/how-to-make-a-us-county-thematic-map-using-free-tools/
- Making maps
with R
http://gislounge.com/making-maps-with-r/?utm_source=feedburner&utm_medium=feed&utm_campaign=Feed%3A+gislounge+%28GIS+Lounge%29
- Another one on the same subject
http://www.nceas.ucsb.edu/scicomp/usecases/CreateMapsWithRGraphics
AROUND WEBSERVICES
- A
webservice search engine
, for example with keyword "geographic"
http://webservices.seekda.com/search?q=geographic
- Using
MapQuest Elevation Service
inside a script:
http://lin-ear-th-inking.blogspot.com/2011/10/using-web-service-for-elevation-from.html
- Always about MapQuest:
no preset limit on Free Map API Transactions
:
http://devblog.mapquest.com/2011/11/17/no-preset-limit-on-free-map-api-transactions/
- Always about web API services, here is a tutorial on
how to map research hot spots using Google Maps API
with R
http://spatial-analyst.net/wiki/index.php?title=Mapping_research_hot-spots
SPATIAL DATA ANALYSIS
- Using
LIDAR
in archaeology.
http://blog.lidarnews.com/lidar-and-landscape-archaeology?utm_source=feedburner&utm_medium=feed&utm_campaign=Feed%3A+InTheScan+%28LiDAR+News%29&utm_content=Netvibes
- A nice resource if you wish to dig into
spatial stats
http://geography.uoregon.edu/geogr/topics/index.html
- Spatial stats and models could help
predict social violence and harmony
. A study made for Switzerland.
http://www.wired.com/wiredscience/2011/10/peace-boundaries/
SOFTWARES
- workshops on
developing OGC compliant web apps
http://workshops.opengeo.org/geoext/
- GRASS in the
cloud
http://www.slideshare.net/lucadelu/grass-cloud
- Some
PostGIS 2.0 cheat sheets
. The main new functionalities of PostGIS are native raster support and topology functions.
http://www.bostongis.com/blog/index.php?/archives/179-PostGIS-2.0-Cheat-sheets-in-the-works.html
- On my blog, you'll find
some resources about the spatial ETL Talend - Spatial Data Integrator
. Here are some keynotes of another tool: Pentaho Based ETL
GeoKettle
from Spatialytics
http://www.spatialytics.org/geomondrian/foss4g-2011-presentation-%E2%80%9Cbuilding-professional-geo-analytical-dashboards-reports-and-apps-with-geobiext%E2%80%9D-now-online/
http://www.spatialytics.org/geokettle/foss4g-2011-presentation-geokettle-the-open-source-spatial-etl-tool-overview-new-features-and-roadmap-now-online/
[FR]ENCH ARTICLES
- Très bon article sur les
bonnes pratiques et astuces
pour l'administration et l'exploitation d'une base de données PostgreSQL / PostGis

http://www.portailsig.org/content/postgresql-postgis-bonnes-pratiques-et-astuces
- Je cherchais depuis longtemps un article efficace, progressif et pédagogique sur les
expressions régulières.
Je l'ai trouvé.
http://www.portailsig.org/content/la-recherche-d-elements-par-expressions-regulieres-rationnelles-regular-expression-preambule
- Toujours un article de Martin Laloux, la procédure pour télécharger
les dalles du modèle numérique d'élévation GDEM ASTER
http://www.forumsig.org/showthread.php?t=32548
- Un document technique du Centre d'études sur les Réseaux, les Transports, l'Urbanisme et les constructions publiques sur la constitution et l'exploitation de données agrégées à la maille.
"Raster or Vector, that is the question"
http://georezo.net/blog/sigurba/2011/11/01/eloge-de-la-maille/
-
Un guide de 260 pages sur les solutions opensource (300 solutions référencées)
édité par la société Smile. N'hésitez pas à jeter un coup d'oeil à
leurs livres blancs
, notamment celui sur l'ergonomie de sites internets et le décisionnel opensource
http://www.smile.fr/Livres-blancs/Culture-du-web/Guide-de-l-open-source
- Un article intéressant sur l'
infonuagique
(Cloud Computing en anglais)
http://georezo.net/blog/geointerop/2011/11/15/cloud-computing-un-nouveau-defi-pour-la-geomatique/
- Saviez-vous que des
Web Processing Services sur la BDCartag
e étaient disponibles? Plus d'infos ici:
http://geotraitements.eaufrance.fr/spip.php?rubrique40
- J'avais rédigé auparavant un document concernant
une méthode d'analyse de l'évolution de la tâche urbaine
.
Si ce sujet vous intéresse, ce document sur le modèle SpaCelle vous intéressera sans doute.
http://www.cairn.info/revue-espace-geographique-2003-4-page-357.htm